Albemarle County Approves Final Drawings of New Free Union Country Store and Café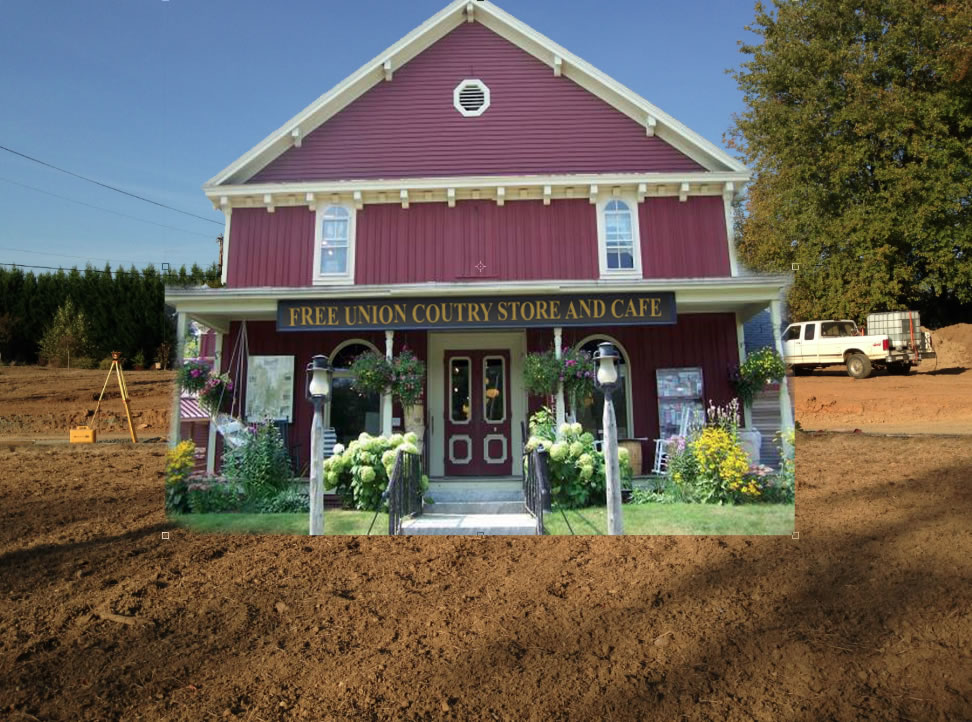 Free Union is going to have a new country store. The final plans have been approved and the above model is an artists rendering of the final design.
The store includes a café, wine bar, deli and a porch to sit and enjoy some hot cider and a fresh scone. Grading has begun and is expected to open in March.
---
dateline: August 14th 2013
Car Accident on Free Union Road Results in Helicopter Evacuation
---
Free Union Parade 2012 Pix
---
Free Union Tree Lighting 2011 Pix
---
---
Huckstep's Garage; A Free Union Institution Closes its Doors
Posted by NBC 29 : Apr 22, 2011 4:52 PM
The garage started servicing cars, trucks, and farm equipment back in 1946 and the business has stayed in the family ever since.
An Albemarle County landmark is closing its doors. Huckstep's Garage has been serving customers in Free Union since the 1940s. The garage started servicing cars, trucks, and farm equipment back in 1946 and the business has stayed in the family ever since.
But on Friday, that all came to an end, and not by choice.
Carol McIntosh, one of Huckstep's customers said, "It's a good place to come if you suddenly need a little service like a flat tire or something like that."
Long time customers are helping the Hucksteps clear out their body shop. After 65 years serving the Free Union area, the garage is closing up shop.
Downtown Free Union really isn't that big to begin with. There's a country store, a post office, a gas station, and Huckstep's Garage, so people who live here say its closing is a big deal.
Keith Morris, another customer added, "It's going to hurt the community, not only me but everybody who's in the area."
While the Hucksteps themselves did not want to speak with us on camera, friends and customers say recent financial troubles did the shop in. In the last couple of weeks, neighbors started a petition pleading with the landlord to keep the shop open. Some even offered to help pay bills.
"It's my understanding that more than one member of the community was willing to step in and make sure that those financial concerns would be met by friends and neighbors," said McIntosh.
"We've tried and tried to get the landlord to let him stay, but I think some other people have been trying but we don't know what's going to happen," explained another loyal customer, Trenton Bailey.
There's a clearer picture of what's going to happen outside the shop. Friday was the last scheduled business day and workers took down the signage that's adorned the building since the 1940s.
"We're gonna miss this place," said Bailey.
From here, nobody's quite sure if the shop will open up elsewhere or if this is it. The Hucksteps hope their landlord eventually has a change of heart.
---
Kemper A. Maupin Kemper A. Maupin, 90, of Free Union, died on Thursday, August 26, 2010, at his home.
He was born in Albemarle County, on January 30, 1920, one of 10 children born to the late Cecil and Ora Loving Maupin. He was also preceded in death by his wife of 58 years, Cordella "Della" McAllister Maupin.
Kemper was the owner and operator of Maupin Brothers Store in Free Union for more than 50 years and he was a member of Free Union Church of the Brethren.
Kemper was a veteran of The United States Army and in 1944 he was awarded the Purple Heart at the Battle of Anzio in Italy and was a member of the VFW. He was a member of the Free Union Lodge Hall and was an avid fisherman and bird hunter. He loved going for his Sunday motorcycle rides and when he and Della were first married he piloted her around the Charlottesville-Albemarle skyline.
He is survived by his three children, Mike Maupin and his wife, Margaret, Janet Moscicki and her husband, Jeff, Tim Maupin and his wife, Dee, all of Free Union; his six grandchildren, Raleigh Maupin, Jody Maupin, Jordan Paige Maupin, J.C. Moscicki, Brennan Maupin and Jarrad Moscicki; a brother, Milton "Pete" Maupin and his wife, Terry, of Florida.
A funeral service will be conducted 2 p.m. Sunday August 29, 2010, at the Free Union Church of the Brethren with the Reverend Pat Mellott officiating. Interment will follow at Holly Memorial Gardens.
The family will receive friends from 4 until 6 p.m. Saturday, August 28, 2010, at the Teague Funeral Home.
The family would like to thank Dr. Moors and Billy and Dot McAllister for their attention and care of Kemper.
The family suggests that memorials be made to the Free Union Church of the Brethren Building Fund, Post Office Box 213, Free Union, VA 22940.
Shopkeeper, a Free Union institution for decades, dies at 90
By TED STRONG
Published: August 27, 2010

Kemper Maupin started working at the Maupin Brothers Store in Free Union so long ago that no one can quite remember when it was. The well-known local storekeeper died Thursday, in his sleep and at home. He was 90.
"He was a good man," said neighbor and customer David Wood of Free Union. "He was always fair. He's going to be missed in the community."
A veteran of the Battle of Anzio, which was part of the Allies' invasion of Italy during World War II, he returned to the states and went to work for a store in Advance Mills, said his daughter, Janet Moscicki of Free Union.
Later, he and two of his brothers — he had nine siblings — took over the store the previous generation of Maupins was running in Free Union. The brothers with whom he was running the store, Galen and Garland, died in the 1960s, but he kept working at the store, said Marguerite Shepherd of Albemarle County, his sister-in-law.
He was working 30 to 40 hours each week when he was 88 and 89, Timmy Maupin, his son, said.
He had to cut back his hours drastically within the last year but was still working the week he died, Moscicki said.
"That's what kept him going," Timmy Maupin said.
As Maupin decreased his time at the store, his son, Mike, took over much of the responsibility, and now will have to go on without his father.
Kemper Maupin's family described him as a quiet man who loved meeting and talking with people. They recalled his sense of humor, too.
"I loved to hear him laugh," said Jeanne Maupin of Albemarle County, his sister-in-law.
At Halloween, he would greet trick-or-treaters at the store.
"He would offer them an onion first," Moscicki recalled.
The children looked crestfallen until he then let them pick out a candy bar instead, she remembered.
He remained active throughout his later years. Besides continuing to spend time at the store, he kept mowing his yard and driving himself, though his hunting was supplanted by wildlife watching, said his daughter-in-law, Margaret Maupin.
"He and his wife were so sweet to everybody," customer Alice Howard of Charlottesville said.
She added, "We would talk about the old people up through here. That's all we talked about, and he never turned his back on anyone."
When he bought into the store, it was housed in a building across the street from its present location. In 1961, the brothers built a new building for the store, across the street at its present location, said Timmy Maupin.
Now, the tin sign reading "Maupin Bros." is streaked with rust, though the inside of the store remains orderly.
Car wax, blaze orange hats, cans of Pepsi and shovels are all offered for sale.
A blackboard at the back advises customers that, among other things, hog pellets run $12.50 and 60 pounds of concrete mix is $4.25.
In the early days, the selection was even more extensive, Margaret Maupin said.
"It was one of those you-go-there-and-get-everything-you-need kind of stores," she said.
It also served as a social center for the community.
Sometimes customers would leave parcels for one another at the store, or ask the family to relay messages to other customers, if they happened in, she said.
Kemper Maupin had been married to his wife, Della, for 58 years when she died a few years back.
Howard, who grew up near the store, recalled a sea of flowers at the store's doorway at the time. The day after Kemper died, bouquets were again arranged around the door. Behind the glass, a sign notified folks of his death.
"Thank you all for being his family of friends," the sign read.
---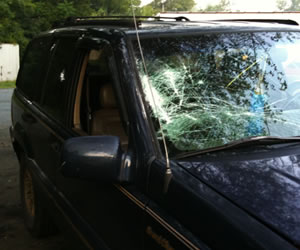 A local postal delivery vehicle lost its brakes and crashed in August, 2009. This photo was taken of the vehicle shortly after VA State Police left the scene.
2008 Christmas Tree Lighting
HIGHLIGHTS
Thanks to the Free Union Home Makers!!!
2008 ELECTION RESULTS
In an incredible historic day Free Union ballot percentages matched the state of Virginia's percentages almost identically!

Free Union
Votes / Percentages

State of Virginia
Votes / Percentages

*Obama

506 / 52%

1,865,925 / 52%

McCain

457 / 47%

1,675,170 / 47%

*Warner

606 / 63%

2,189,516 / 64%

Gilmore

355 / 36%

1,176,351 / 35%

*Perriello

442 / 50%

157,456 / 50%

Goode

431 / 50%

157,425 50%

*Winner

Historic Building Being Saved - DATELINE June 5, 2008

A historic building in Free Union is in the process of being saved from the elements and gravity. Local Doctor, Bruce Campbell has completed the leveling and a new foundation to the old Harris Store aka(Free Union Community Hall). The building was brought up 4 inches on one side and cables were added to pull in the bulging walls.

Days later the lot was cleared of brush and "stink" trees while preserving a couple old Oak trees and a rare Rosebud tree.

Plans for now are to grow grass and complete repairs to the roof and windows.

Thank you to the Campbell's for their work in restoring this building. Maybe soon we will be in there for community night once more.

At 3:30am a spectacular car accident severed power to Free Union for 8 hours. The single car wreck resulted in the driver going to the hospital with some serious but not life threatening injuries.


Note: the fence sticking thru the passenger door.


Severed telephone poll and fence.

The Crozet Gazzette
printed a historic look at Free Union

Veterinarian Suspects Fowl Play

Free Union veterinarians received numerous calls on Monday, Oct 1st, regarding animals with strained neck muscles. So many, in fact, that one veterinarian followed up with on-site visits to several of the callers, where he determined that the muscle strains were caused when animals contorted their necks while attempting to bury their noses into their fur to escape a foul odor in the air. Apparently farms located in and around Free Union had recently spread chicken manure as fertilizer, and the smell of the chicken excrement was so strong and so foul that the animals were desperate to escape it. One bicyclist was also seen riding on Free Union Road with a bandana over his mouth and nose. The investigating veterinarian, who would like to remain anonymous, said, "There's been no crime committed here, but oh man it stinks!"

;-) source unknown
Free Union Parade 2007 PHOTOS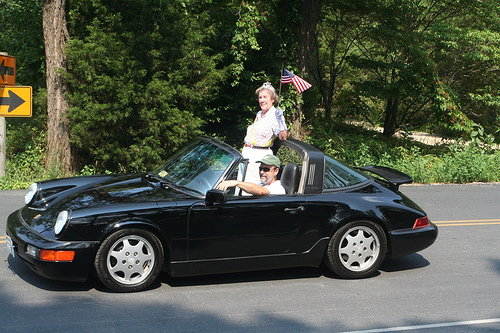 2007
It is with a heavy heart that we report that Della Maupin passed away on Wednesday June 6th. Our condolences go out to her family and all those that knew and loved her.
---
50th Anniversary
Free Union Christmas Tree Lighting
| | |
| --- | --- |
| | Channel 29 News vehicle did a live broadcast from the center of Free Union in September 2005 during a tornado watch. No tornado was seen. |
---
---
On Friday, Dec. 3rd 2004 a bald eagle was seen on Free Union Road
.

"I came around the corner just past the VDOT station and there he was eating the remains of a slow possum. He flew up over my car and perched in a tree." said local resident.
CRIME WATCH REPORT
DATELINE: July 16, 2014

Another illegal sign in the VDOT right of way spoted on Old Orchard Road, Free Union, VA. This sign has even made claims of road conditions without any USGS studies or data to support the claim.

Free Union VDOT Jurisdiction


Photo of Illegal sign posted in Free Union, VA

VDOT ADDRESSING ILLEGAL SIGN ISSUES
Owners face fines and removal of signs

dateline june 2012 – Staff of the Virginia Department of Transportation (VDOT) has seen a recent increase in the number of illegal signs in VDOT right of way and is taking the necessary legal steps to address the issue.

Signs which are placed on VDOT right of way create safety hazards and could cost the owners a civil penalty of $100. Additional monies can be, also, collected for the cost of removal.

Those signs which block the ability to see oncoming traffic or which impede VDOT's maintenance operations are removed immediately. Owners of signs are notified and given the opportunity to pick up the signs.

Counties across the state are working with VDOT to clean up the roadside and to make them safe for everyone.

CRIME WATCH • dateline Oct 23, 2009
Neighbor Claims Viscous Dog Attack !

Unsubstantiated claims of a "dog startling" in the early morning hours have been rumored. In the wee hours of October 23rd, the victim claims that a terrier ran into her yard without permission and caused her to "nearly have a heart attack". We have included a composite drawing of the suspect as well as an EKG from the victim.

The perp is around 8 inches tall and has black hair.

UPDATE: Animal Control was called on this very same dog the following week . Strange Coincidence or revenge?

We will stay on this story as details unfold.

CRIME WATCH • dateline May 5, 2008

This letter was recently discovered by local Free Union Crime Watch deputies. It was delivered anonymously in a residents mailbox WITHOUT postage. This is a violation of Federal Law Title 39 and carries a fine of $500.00 per occurrence.

Free Union forensic experts are working to determine the source of the letter. A local hand writing expert has been consulted and we are certain the source will be exposed. We have eliminated all dog owners, reducing the pool of perps to just a few. More info on this as the evidence reveals.

November 21, 2007 4:20am

Free Union Crime Stoppers™ were once again called to action when a brazen burglar smashed and entered the store in the early morning hours. Two units caught the action. The vehicle was a dark Mercedes convertible.

Perp attempted to enter the store by unscrewing the light bulb on the back loading dock and drilling thru the back garage door.

When that failed to produce results, they attempted (and failed) to smash thru the front door which was replaced in 2004, after another break in (see below). The new tempered version didn't break and the now frustrated criminal broke thru the front glass window and climbed in , leaving a perfect boot print. Forensics are working on identifying the boot and it's owner.

Sadly unit one, once again failed to arrive on scene in time to catch the thief or see the perp. They did however shoot the detailed photos that we are certain will lead authorities to an arrest soon.

Free Union Crime Stoppers is offering a $100,000 BAR for information leading to the arrest of this person.




---
November 14, 2004

Thieves made another bold night time robbery at the Maupin Store in Free Union. At 2:30am robbers shattered the glass front door and entered the store. The target of the classic "smash and grab" robbery appeared to be cigarettes and the always valuable and easy to turn over $100,000 Candy Bars.

It appeared the vehicle was parked to the right of the store and upon driving off leaked a large amount of fluid. It didn't appear to be water.

Anyone with information or other help can contact F.U.C.S at this email address.
---
October 14, 2003

---
STORM DAMAGE JUNE 2002
| | |
| --- | --- |
| A large gust front moved thru Free Union June 6th, 2002. It brought down the large Red Maple in town. Half of Free Union Road was blocked until VDOT came by and cleared the brush from the road. | Thanks to Kevin Mitchell l(above photo left) and Paul Showalter for helping Mark Neisser (above photo right) clear the tree. The house was spared by steel cables installed after the Neissers purchased the property. |
---
SPRINT DSL UPDATE
(This update posted Sept. 4, 2004)

I have Sprint™ DSL running at my house! They were very helpful on the phone helping me set it up . THANK YOU SPRINT!!!!!!!!!! The wait is over. Free Union is now in the 21st century.

(This update posted August 30, 2004)

I logged onto the http://sprintdsl.com web site this am and was told DSL IS AVAILABLE. I ordered it and am told my account will be up Friday. I find this hard to believe and will keep you posted.

(This update posted August 14, 2004)

Here is a DSL alternative for DSL if Sprint continues to drag it's feet.

Greg Kelly at CVEC (gkelly@forcvec.com) the other day:

"We haven't set a schedule for BPL deployment beyond the market pilot area of Colleen and Martins Store (substations). Our intent is to extend broadband throughout our distribution system but we are the first rural utility to offer the service so we have no historical data. Logistics and scheduling are therefore difficult to predict with any certainty. If all goes well with the initial deployment and CVEC decides to proceed with rapid deployment utilizing multiple crews, then we could be working in your area sometime next year. I am sorry that I cannot be more specific today but should be able to offer something definite within the next 60 days."

(This update posted August 4, 2004)

July 30th has come and gone and it's no surprise there is no DSL. The equip is all ready now we are waiting on the paperwork. September 30th. Don't hold your breath.

(This update posted JUNE 2, 2004)

After reports of lots of activity at the new DSL box from our DSL patrol I check with Sprint for a update. Sprint engineers in Cville report a date of July 30th.

(This update posted May 27, 2004)

The 1st Quarter of 2004 has come and gone and still no DSL. However, progress has been made. The optical cable has been run to the switcher box across from the Brethren Church in Free Union and a new DSL ready switcher box has been installed. Our inside source tells us that we are looking at a realistic August 31st date.

---

There is a ray of hope on the DSL situation. After finally reaching someone helpful in SPRINT CUSTOMER SERVICE that actually knows what is going on, we have a tentative time schedule for DSL.

In the 1st Quarter of 2004 they have funding approved to run the fiber optic cable needed to use DSL to the local station by the Brethren Church in Free Union (THIS HAS HAPPENED). Then in the 2nd Quarter of 2004 (April) they have plans (if funding is approved) to install the equipment at that station to upgrade it for DSL.

FreeUnion.com would like to thank SPRINT for giving us the first helpful information. Check here for more updates and info as it becomes available.