To add to this please email us
Village of Free Union History
General History



In 1761, the Free Union area was added to Albemarle County. Two of the earliest families settling here were James Harris and Daniel and Gabriel Maupin. Daniel Maupin I, lived from 1748 until his death in 1788 in White Hall area on the Maupin Homeplace. Gabriel his son lived on what is now called "Brakeheart Road" in Sugar Hollow until his death in 1794. Gabriel's son Thomas Maupin was the first of the Maupin family to live in the Free Union area. He lived just north of Wesley Chapel Church. He is believed to be buried in the Maupin Cemetery on Pea Vine Road. There are many fieldstones and Ora Maupin and her cousin Marvin Maupin took care of the cemetery for many years. They were not sure of the names for the many fieldstone graves in the cemetery.

No military action occurred in Free Union during the Civil War, and the village emerged unscathed.

Thirty-one families lived within two miles of Free Union in 1847. By 1884-85, Free Union contained two coach and wagon builders, two distillers, three general merchants, two liquor dealers, one corn and one flour mill, two physicians, one undertaker and twenty-one principal farmers. By 1911, Free Union had an estimated population of sixty and included several businesses.



Free Union Baptist Church

Built in 1837

Classical-revival, small scale with gable-end entrance, and some Flemish bond brickwork.

The church was built during a time when many rural sects of religion did not have the funds to build individual houses of Worship; so four denominations (Baptist, Methodist, Episcopalian, and Presbyterian) built this 'union' church. It was "free" to all races. Dickinson and Sarah Burruss, of the nearby old Homestead estate, gave the land (deeded November 25,1837) to be used "for a Place of worship ... for the different denominations of Christians...one Sabbath or Lord day in every month..," The brick for its construction was made on the Burruss' plantation. James Ferguson taught school in this Church to black students following the Civil War and is purportedly the first of its kind in Albemarle County.

The village was named after the church-originally called Nicksville after a free slave blacksmith named Nick. In 1847 a Post Office was established in this village and in order to avoid confusion with a nearby town called Nixville, the name Free Union was adopted.
---
Huckstep's Garage
(Free Union Store)

Estimated date of construction - 1925

Building consists of three parts:

1-story with gabled roof store of rusticated concrete with pedimented porte cohered large display windows

Attached to the West is a 2-story stucco house with hipped roof and one story porch.

On the north is a gable roofed frame garage with concrete block hyphen.

A store stood on this site since the mid-1800's and at one time included a mill. Owned by the Maupin family for ( ?? ) years, the store burned many times and Was replaced by the current building in 1919. The service station/garage has been in operation since (??).
---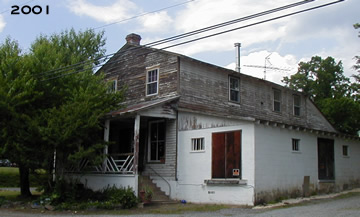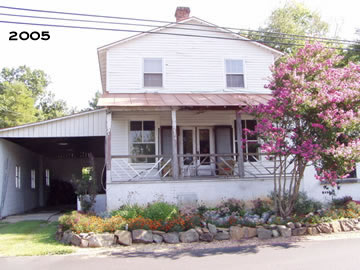 Old Maupin Store (White's Store)

Estimated construction 1915 by A.M. Elliott

2-Story , 3-bay, gable roof frame store with bracketed eaves; shed roofed porch and gabled entrance. Original windows are 2/2 sash and there is original double screen door on front. Concrete block wings on either side (one is a garage) are later additions. Building is now a residence.

At least two other stores stood on this site at the corner of Buck Mountain Road and route 601. One of these was the site of a sensational murder and arson on January 6,1806. Thomas W. Thompson, a twenty-five year old chief clerk at White's store and nephew of Dr. Thomas M. Dunn, was murdered and his burned, decapitated body recovered from the ashes the following day. Taylor Harman, a Free Union resident was charged and convicted of the crime, and was later hanged.

The Maupin Brothers operated a store here from 1928-1961. This building also served as the Village Post Office from ??. For six years during the fifties a community newspaper called The Dope Street was produced from this store written by Vera V. Via, It featured local history, events, and store ads. The store ceased operation in 1961 when Maupin Brothers moved across the street.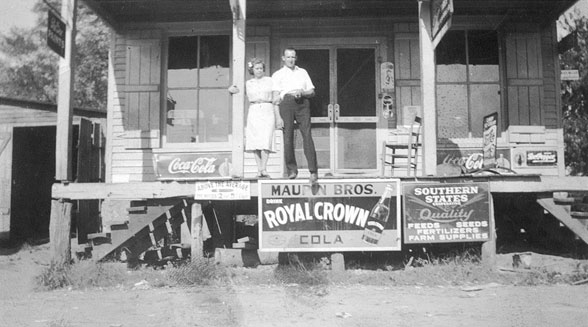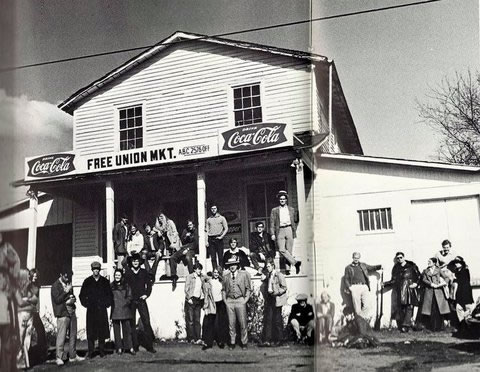 Maupin's Store 1950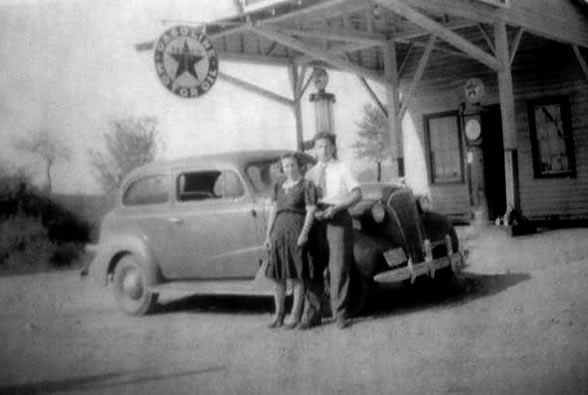 Old Gas Station - corner of Free Union Road and Buck Mountain Road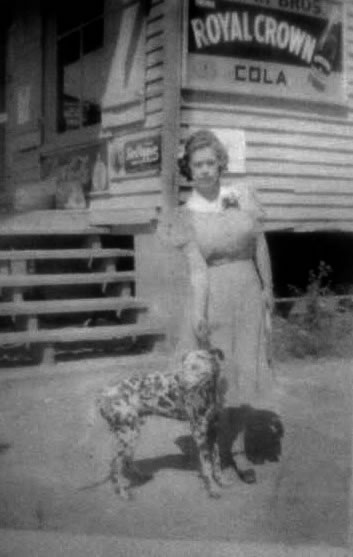 James Hucksteps' sister
---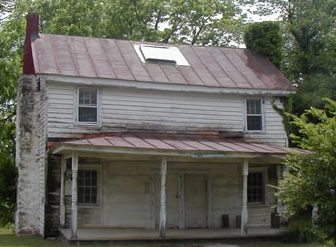 Maupin House
Estimated date of construction-1850
Single dwelling, 2-story, 3-bay frame house with uncertain building history. The beaded wide board siding on center bay, two front doors and window sash point to mid-19th century date of construction. Rubble stone chimney has brick stack; other completely obscured by ivy. One-room Visible; has pine floors and ca 1850-mantle piece.
One, frame, gabled roof shed may have been a corncrib.
1 story porch with turned posts is not original, neither is the 1-story rear wing. Several windows are new. Current owner is the
Maupin family who owns the local store
. The second story was used by Shelter and Associates around 1994-99 as office space.
---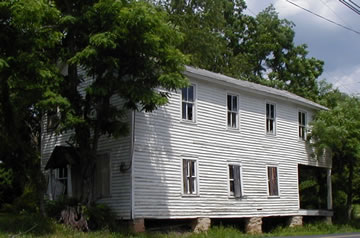 Harris Store
(Free Union Community Hall)

Estimated Date of Construction-1850.

2-story, 3-bay wide 4-bay long, gable roofed frame building with gabled-roofed end - entrance with small 1-story porch. North gable has decorative louvered vent. Enclosed stair rises to the South gable-end. Some windows have Original shutters.

One of the oldest buildings in Free Union, it served a number of functions during its history. Long owned by the James Harris (d,1797) family, it was originally built as a dwelling house on the corner of their plantation. It also served Ned Harris as a cabinet maker/coffin and wheelright's shop. Additionally a Post Office, stores run by John Wyant and John and Charles Bing, a polling house, community hall, lodge hall, library, church social and supper hall, all once occupied this space. Since 1961 this place has been used as Storage. It is currently owned by Dr. Bruce Campbell.
---
Dr. W.A. Kyger House and Office

Estimated date of construction 1910.
Dr. Kyger House
2-story, three bay, hipped roofed frame house with cross-gables at the north and west elevations. 1-Story Wrap around Porch has turned posts, bracketed eaves, and plain railings. 2 story hip-roof wing is on the south.


Dr. Kyger House circa 1930

Dr. Kyger Office
2-story, gable roofed, stucco frame building with an L-plan and below grade garage, Was formally used as a doctor's office. This is a rare example of a rare historic medical office in Albemarle County.

Dr. W.A. Kyger operated his medical practice in the small gable-roofed building on this property. This office is now used as a guest house and office.



Both structures are owned and occupied by Mark and Mary-Scott Neisser and their family.
---
Twin Orchard

Single Greek revival dwelling- estimated construction 1870 although numerous additions since then. Renovated in 1995.

Two story, three bay-hipped roofed main section with two interior chimneys, 1-story front porch and 2/2 sash windows. 2-bay gable-roofed wing on the rear has 6/6 sash windows with Greek revival trim and ramped lintels. Gable roof frame kitchen with stone and brick chimney and gable-roofed frame shed. Both are 19 th century.

The Harris family may have owned this house.
---
The following article was read at the Free Union Post Office dedication
1968
Free Union, Once Called Nicksville, Officially
Was Put on Map as Post Office 112 Years Ago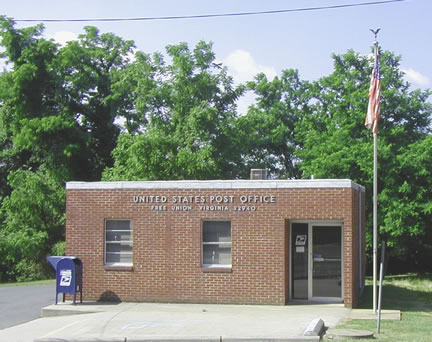 One hundred and twelve years ago residents of what is now Free Union were looking forward to an event which would put them on the map. A movement was afoot to establish a post office in the Albemarle County village.
Up to that time the village was known Nicksville . But since another city called Nixville existed in the county, one of the first obstacles was to rename Nicksville to avoid any conflict at the two post offices.
Villages rarely were named when they formed in early days. They began as settlements and acquired names as they grew. Nicksville is said to have been named after a "Free Black" who ran a blacksmith shop in what is now the center of the village.
Several legends appear regarding selection of a name for the new post office but some of these stories are doubtful. In 1847, about 10 years after Free Union Baptist Church was built in what is now the village, the center of the community was about two miles west of the present site and was as Thompson's neighborhood. It had a store and a church building (the old Garrison Meeting House).
With the growth of Nicksville, the post office was established and it was placed in what is now Free Union.
We don't know who chose the name but it was named after the Baptist church. The church was built as a Union church and was free. Free Union Church is mentioned in old records and papers before the post office was established.
For some time afterwards, Free Union remained a post office designation only. The older folks still called the town Nicksville even up to the turn of the century.
A list supplied by the General Service Administration in Washington, D. C. gives the name of Henry Harris as the first postmaster at Free Union. He received the appointment on March 8, 1847. He was a member of the family which settled at Free Union while it was still a part of Louisa county.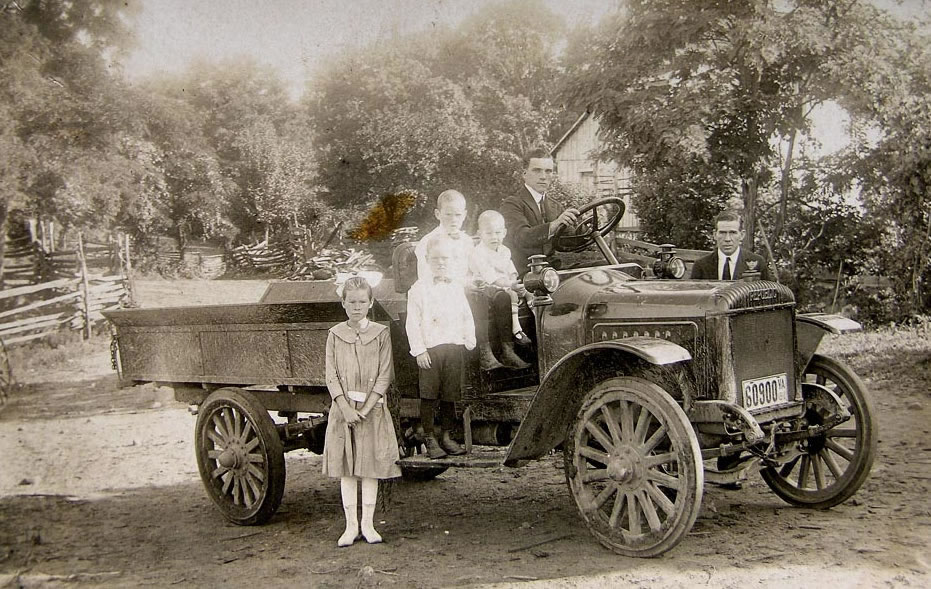 Click Image for larger version
William Winston Wilberger was born down the hill on Page Street in Charlottesville, (1921). William Thomas Wilberger and great grandfather (Dorsey H.Wilberger) are from Free Union where they operated a sawmill, Wilberger's still have family there living at the old home place.
The man sitting at the wheel is William Thomas Wilberger, the others to his right are his brothers and his sister Winnie. The smallest fellow on the seat (Jack) is still living there in the county. The older man standing behind hood is Dorsey H. Wilberger, he's buried there at a small church cemetery across from where he lived in Free Union. The license plate date is 1918 and the truck is a Republic.
-Information sent in by Slim Wilberger
The exact location of the post office operated by Harris is not )known. He is said to have lived at Herndon House, which burned a few years ago. Harris held the post until Nov. 5, 1852, and Samuel Payne took over until Feb. 2, 1853. James L. Eagon succeeded Payne. In April 1856 , James Wayland succeeded Eagon and in June 1860, Joseph R.Thompson succeeded Wayland. Thompson held office until 1866, mostly in name only. The post office actually was discontinued July 9, 1866, and reactivated on March 26, 1867, because of the Civil War, thus, Thompson was on the federal books as post master but had little to do. Bernard B. Thompson took over as postmaster when the office was reactivated in 1867 . He served until Dec. 10, 1870.
Lewis T. Rogers, like the Thompsons, was a member of the early families of area . He took the job of postmaster in 1870 . After five years, John F. Elliott took the job. He was succeeded about a year later by Robert Dettor. Then a little more than a year later, William B. Yager held the office.
In 1880, the postmastership went to Thom. M. Cosby. He served until Much 20, 1882, when Miss Virginia Yager took the post. There appears to be some confusion in the records here since 10 days later a Mrs. Virginia L. Yager was listed a as postmaster. Perhaps they were the same person and the name was listed again as to correct an earlier error or perhaps Miss Yager married or maybe there actually were two different persons : a mother and daughter.
Mrs. Yager held the job for eight years. Rosa L. Martin succeeded her on Sept. 27, 1890. She held the job until John B. Cox was appointed in 1897. John Cox was succeeded by Charles B. Coxon Feb 21, 1901.
A father and son held the office for more than a quarter century after Charles Dox. James Elliott took over on June 7, 1902, and his son, Andrew M. Elliott on Oct. 1, 1914.
Dr. William A. Kyger was appointed postmaster to succeed Andrew Elliott on Oct. 1, 1928, and held the job until 1934.
It was here that Cecil A. Maupin entered the picture. He acted as assistant postmaster and later was appointed postmaster. In 1964 he retired. Maupin has served longer than my others : 26 years in all. He is the 20th postmaster in 112 years.
With the relocation of Maupin Brothers Store into a new building here last week, the Free Union Post Office went along. Mail service in the 112 year period has improved right along. At the beginning, mail was delivered weekly. Later it was changed to twice a week and still later, to three times a week. Today, residents get mail every day except Sunday and holidays.


Designed and Hosted by Active Media Group 2005©
Based in FREE UNION, VA
Contact Us • Web Site