Cordella McAllister Maupin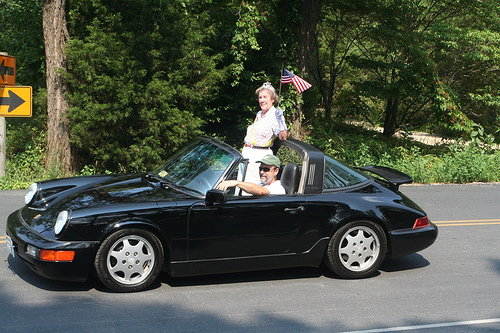 Cordella "Della" McAllister Maupin, 82, of Free Union died Wednesday, June 6, 2007, in a local hospital.
Born in Albemarle County on November 4, 1924, she was the youngest of 14 children born to the late Richard Harrison and Lillie Austin Garrison McAllister.
"Della" was an active member of Free Union Church of the Brethren and was a life long active community servant to the Free Union Community. She served on the Board of the Free Union Church of the Brethren and was instrumental in the formation of the Women's Group there. She was recently recognized for more than 50 years of service to the Free Union Extension Club later to be known as the Free Union Homemakers Club. She was a beacon in the Free Union Community where she was a businesswoman alongside her husband of 58 years, Kemper where they owned and operated Maupin Brothers Store. Della's customers were her friends and she always welcomed everyone. She helped run the Senior Day, now known as the Community Lunch. Her joys in life were making her Christmas Balls, a "A collectible" she called them and was proud that some had even gone International. She will long be remembered for her gardening, canning and crafting abilities but most importantly long remembered for the great love she had for her six grandchildren.
She is survived by those six special grandchildren whom she thought the world of, Raleigh "Babycakes" Maupin, Jody "Jobob" Maupin, Jordan Paige Maupin, J.C. Moscicki, Brennan Maupin, and Jarrad Moscicki.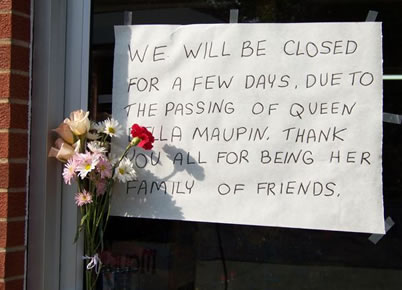 In addition to her grandchildren she is survived by her husband, Kemper Maupin; one daughter, Janet Moscicki and her husband, Jeff; two sons, Mike Maupin and his wife, Margaret, Tim Maupin and his wife, Dee, all of Free Union; one sister, Dorothy Mitchell of Selma, Alabama; one brother, Clyde "Tab" McAllister and his wife, Carolyn, of Crozet; a special nephew, Billy McCallister and his wife, Dot, of White Hall; a special friend, Nancy Ward of Free Union; several sisters-in-law and many nieces and nephews.

A funeral service will be conducted 2 p.m. Sunday, June 10, 2007, from Free Union Church of the Brethren. Interment will follow at Holly Memorial Gardens.

The family will receive friends from 4 until 6 p.m. Saturday, June 9, 2007, at the Teague Funeral Home.

The family suggests that memorial contributions be made to the Free Union Church of the Brethren Building Fund, P.O. Box 213, Free Union, VA 22940 or the Cancer Center Fund, for Breast Cancer, c/o The Foundation Office, Martha Jefferson Hospital, 459 Locust Avenue, Charlottesville, VA 22902.

Friends may sign the guest register at teaguefuneralhome.com.

Published in the Daily Progress on 6/8/2007.

Original Link: http://www.legacy.com/dailyprogress/Obituaries.asp?Page=Lifestory&PersonId=88794867